Three milk jugs by the Prince Edward Island Pottery (1880-1898)
Items from the original Prince Edward Island Pottery, a company that operated from 1880-1898 remain a collectible form of historic pottery both in PEI and beyond. While there has never been a book published on the topic, solid research has been conducted on the 18 year history of the business and the site of the operation was excavated by Donald Webster of the Royal Ontario Museum in 1970. The operation was located on what is now the Charlottetown Research Station (Agriculture and Agri-Food Canada) near the Charlottetown Farmers Market. A line of trees remains at the edge of a field marking what has been long known as Pottery Lane. Webster's
article
published on the research is now available online. His abstract introduces the topic.
The Prince Edward Island Pottery was established by Oswald Hornsby on the outskirts of Charlottetown in early 1880 and, following its closing in 1898, all structures and buildings were demolished in 1903. During its 18 year operation the pottery produced the greatest range of earthenware forms yet established to any Maritime's pottery, and the only known marked wares. The site of the Prince Edward Island Pottery was excavated by Donald Webster of the Royal Ontario Museum in 1970, in conjunction with historical research and a survey of its surviving products.
There is also an valuable article on the Prince Edward Island Pottery called
Red in the Soil
, by Catherine G. Hennessey, which was published in the PEI Centenary Issue of the
Canadian Collector
magazine in 1973. A book by Hennessey released in 2015 tells the story in concise form. The book was
reviewed by The Guardian
the year it was published.
Catherine Hennessey holds one of the pieces that first piqued her curiosity in pottery 50 years ago. The Charlottetown historian has just published the Prince Edward island Pottery Company.
©GUARDIAN PHOTO BY SALLY COLE



Pottery mark of the Prince Edward Island Pottery
From collection of Catherine Hennessey
Pottery Lane on Charlottetown Research Station.
Image courtesy of Aubrey Bell - Gallery18
Image courtesy of Aubrey Bell - Gallery18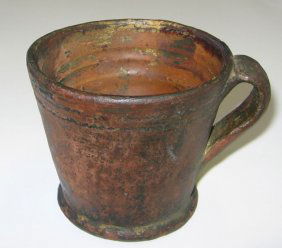 On Sept 16, 2012 Gallery 18 conducted a live auction and listed the following item.

Image courtesy of Aubrey Bell - Gallery18
From the collection of Tom Banks